Have you been exposed to hepatitis C? Get tested to find out
Hepatitis refers to inflammation and damage to the liver. The most common causes of hepatitis are three viruses known as hepatitis A, B, and C. The hepatitis C virus causes only acute (short-term) infections in some individuals, but can cause chronic (long-term) infection in others.
The hepatitis C virus is usually transmitted through exposure to blood from an infected individual, commonly through sharing needles. Other exposures can be at birth, sexual intercourse, blood transfusions and organ transplants, and tattoos or body piercings.
Hepatitis C is usually effectively treated with antiviral medications. Treatment slows down the progression of inflammation and scarring of the liver and reduces the chances of liver cancer.
Why consider this test?
The CDC recommends hepatitis C testing for:
All adults at least once in a lifetime, except in populations where the prevalence of hepatitis C is less than 0.1%
All pregnant women during each pregnancy
HIV-positive individuals
Anyone who has ever used injectable drugs (routine testing for current users)
People with abnormal liver tests and/or liver disease
Anyone who received donated blood or organs before July 1992 or clotting factor concentrates before 1987
Anyone who has been potentially exposed to the blood of an infected individual
Hepatitis C infections can be acute (short-term) or chronic (long-term). However, many people with hepatitis C do not develop symptoms and thus can unknowingly spread the disease. If a chronic infection occurs, affected people show similar symptoms to an acute infection and may eventually develop liver disease.






Clay-colored bowel movements

Yellowing of the skin or eyes
What's included in this test?
 
Hepatitis C
This test detects antibodies to hepatitis C, which may be detected as early as 2 weeks post-exposure, but are generally not detected until 8-11 weeks post-exposure. If you suspect a recent exposure, an alternative test to detect hepatitis C nucleic acid (RNA) may be recommended.
A positive result from this hepatitis C test is consistent with both a current hepatitis C infection and a resolved past infection. Follow up testing for hepatitis C RNA is required to identify a current infection.

Choose the test that matches your need from our large array of tests. The kit will be delivered to your doorstep. There is no need to leave the comfort of your home.

Register and activate your test. Collect your sample first thing in the morning. Return your sample to our lab as soon as possible, using the prepaid envelope included in the kit.

Your sample will be tested as soon as it arrives in our lab. Your results will be available through our secure online platform.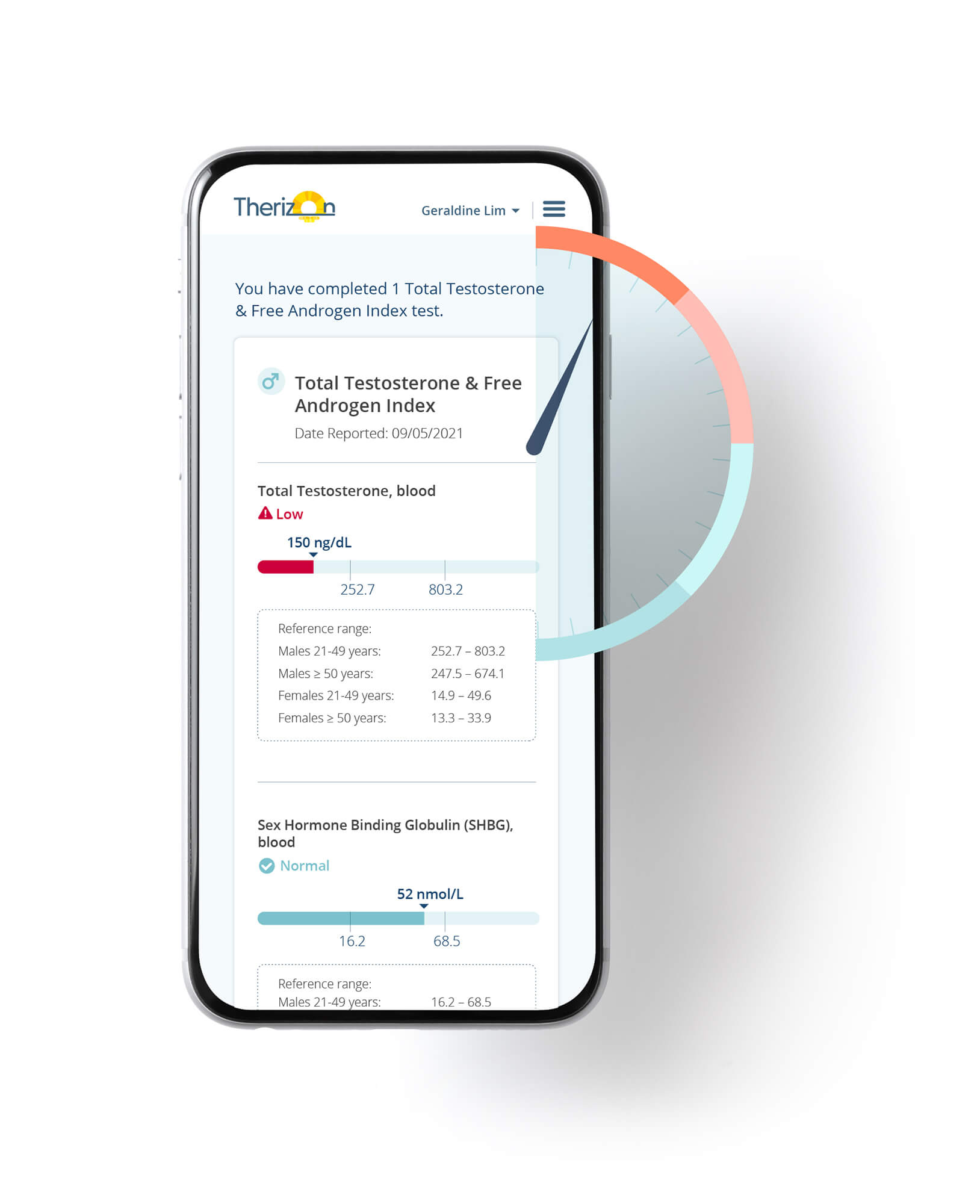 Use TherizonConnect to view your test results quickly and easily
The results are only available through TherizonConnect, a free, secure patient portal that you can access on your smartphone, tablet, or desktop. You can also share your results with your doctor, family, or friends.
Here are the answers to the most frequently asked questions about these tests. Please feel free to contact us if you have any other questions.
How does the Hepatitis C Test work?
A blood sample is self-collected following the detailed instructions included in the kit, and mailed back to the lab using the prepaid envelope inside the kit. Upon receipt at the laboratory, the blood sample is analyzed by a fully automated chemiluminescent microparticle immunoassay (CMIA) to detect antibodies to the hepatitis C virus in the blood sample.
A reactive result is consistent with a current hepatitis C infection, or a past infection that has resolved, or a biologic false positivity. Follow up testing for hepatitis C virus nucleic acid is required to identify a current infection.
How is hepatitis C treated?
There is no vaccine available for hepatitis C. Treatment options vary depending on hepatitis C virus genotype, viral load, stage of infection, liver damage, and any other health complications. 8-12 weeks of antiviral medications are effective in approximately 90% of cases. However, these medications do not repair any tissue damage that has already occurred. Liver transplantation may be necessary for severe liver damage.
How is hepatitis C transmitted?
Hepatitis C is usually transmitted through exposure to blood from an infected individual.
Sharing needles (most common source)
At birth (~6% of infants of infected mothers)
Sexual intercourse (rare but more common in men who have sex with men)
Healthcare exposures
Blood transfusions and organ transplants (now very uncommon)
Unregulated tattoos or body piercings
Sharing personal items that have been contact with infected blood (e.g. glucose monitors, razors)
What are ways to reduce the risk of hepatitis C transmission?
Affected individuals should:
Not donate blood, tissue, or semen
Refrain from sharing items that may come into contact with blood (e.g. razors, glucose meters, toothbrushes)
Cover any cuts or sores
Our Laboratory Accreditations