Get a prompt Lyme disease diagnosis to prevent complications
Borrelia burgdorferi is the bacteria that causes Lyme disease. B. burgdorferi is transmitted by black-legged ticks that are commonly found on vegetation and animals such deer, dogs, mice, horses, and birds in endemic areas.
When a person is bitten by a tick carrying B. burgdorferi, the bacteria can enter the body through the skin, often causing a characteristic rash, fever, headache, and fatigue. Untreated Lyme disease can spread throughout the body, affecting the joints, heart, and nervous system. Generally, Lyme disease is effectively treated with a few weeks of antibiotics. 
Why consider this test?
Testing for Lyme disease is recommended in people showing symptoms of infection or are at risk of infection.
Early symptoms can include a characteristic rash called an erythema migrans rash, fever, chills, headache, fatigue, and muscle and joint aches.
Risk factors for Lyme disease include having recently removed a tick from your body or walked in a wooded area where ticks live without covering exposed skin or wearing repellant (particularly in the northeast or midwestern areas of the United States where most Lyme disease cases occur).

 
Early signs and symptoms usually appear 3–30 days after the tick bite and can include:

Erythema migrans (EM) rash




Later signs and symptoms of Lyme disease may show up weeks to months after the tick bite and can include:

Severe headaches and neck stiffness


Facial palsy (loss of muscle tone)




Shooting pain, numbness, or tingling in the hands or feet
What's included in this test?
 
Antibodies to B. burgdorferi
When Lyme disease occurs, the body's immune system produces antibodies that are specific to B. burgdorferi. IgM antibodies are produced within the first few weeks, followed by the production of IgG antibodies.
This test detects IgM and IgG antibodies towards the VlsE1 and pepC10 antigens from B. burgdorferi in an initial screening test. Any preliminary positive or equivocal results from the initial screening test are then confirmed with additional testing following modified two-tier test methodology.

Choose the test that matches your need from our large array of tests. The kit will be delivered to your doorstep. There is no need to leave the comfort of your home.

Register and activate your test. Collect your sample first thing in the morning. Return your sample to our lab as soon as possible, using the prepaid envelope included in the kit.

Your sample will be tested as soon as it arrives in our lab. Your results will be available through our secure online platform.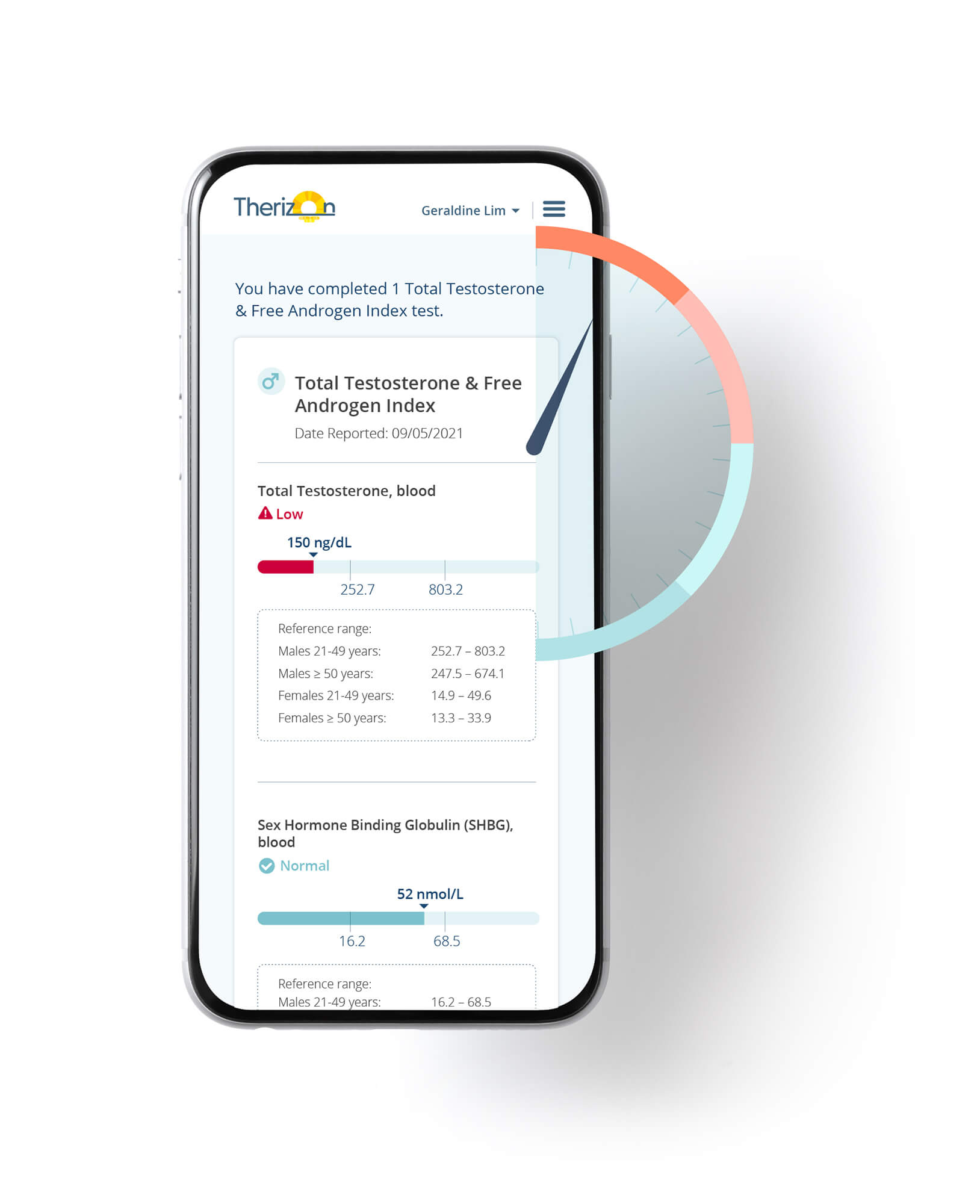 Use TherizonConnect to view your test results quickly and easily
The results are only available through TherizonConnect, a free, secure patient portal that you can access on your smartphone, tablet, or desktop. You can also share your results with your doctor, family, or friends.
Here are the answers to the most frequently asked questions about these tests. Please feel free to contact us if you have any other questions.
How does the Lyme Disease Test work?
Our lab uses a fully automated initial screening test to detect the presence of IgM and IgG antibodies to B. Burgdorferi in the finger prick blood sample. Any preliminary positive or equivocal results from the initial screening test are then confirmed with additional testing following modified two-tier test
If I get a positive result, what should I do next?
Contact your healthcare provider as soon as possible to begin a course of antibiotics.
How is Lyme disease treated?
Oral antibiotic treatment in the early stages of Lyme disease usually results in rapid and complete recovery. Early diagnosis and prompt treatment can also help prevent late Lyme disease. In the later stages of Lyme disease, longer courses of antibiotics and/or intravenous treatment with antibiotics may be required.
What are the ways to reduce the risk of Lyme disease?
Reducing exposure to ticks is the best way to reduce the risk of Lyme disease. Specific steps include:
Treat clothing and gear with products that contain 0.5% permethrin
Apply insect repellent
Wear long pants and tuck them into socks or boots
Avoid walking in wooded areas with high grass and leaf litter
Check body, clothing, gear, and pets for ticks and remove any that are found
Shower after being outdoors
Our Laboratory Accreditations